Protect yourself then go outside and have fun
Did You Know:
That at least 3 million people are poisoned by pesticides every year. More than two hundred thousands of these people die every year.(New Internationalist Vol.323, May 2000)--accurate stats are not as readily available but the situation per country is much worse.
Increase your protection against bug bites, tick bites, flea, bee, ant, and spider attacks,Lyme Disease, and West Nile Virus.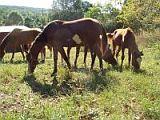 Within minutes, you will notice the bugs go away.
Spray around the door and house and you can watch the ants, insects and fleas run away.
Nothing bad is left behind: no bugs and no stains.
All that stays is a wonderful fresh scent.

Special all natural formula that kids can use without harming themselves and you do not have to worry about spraying it on your skin. It will not harm you but is a natural skin emollient.

Irresistible smell that you can wear daily as perfume and have compliments on the great smell that will also keep all insects away.

Relieves your stress. Most of the ingredients are essential oils that are known to calm and soothe the body and soul-- while keeping all the insects away.

Unlimited uses. Can be sprayed on clothing, furniture, around the house, yourself, your animals, and car without worry. No stains or stickiness to clean up and will not harm or irritate the skin.

You do not know that you have it on. Your skin is smooth, not sticky.

It will not hurt you, take 5 years off your life or the lives of your family and pets and does not cause cancer.

You get to try the product and see if it does what you need and what you want it to do.


---
Once someone has Lyme Disease, the person can get it again easier. Please guard yourself now.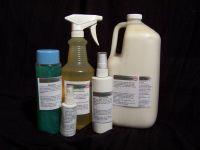 Bugrepel Natural Insect Guards combines 16 different essential oils of plants and flowers from around the world including catnip (proven 50% stronger than DEET) in a special secret all natural formula to guard against ticks, mosquitoes, flies, & over 97 other insects that works quickly and is very effective. We use the pure essence of plants --the strongest essential oils to help you. The essential oils are brought together to fulfill your needs of keeping the bugs away with a soothing scent that will make you feel happier and is safe for people, dogs, cats, home, horses, barn, children and friends. The essential oils put out a high vibration to keep the insects away long after you stop smelling it. Bugrepel is economical because you do not need as much as other products and it lasts a long time where you spray it. Bugrepel is safe for sensitive people. Bugrepel is natural and non-chemical.
The specific blend is all natural and can be used by all ages--babies to old people and pregnant women with out trouble. The Blends were created to be safe of human and animal skin without worry.
The formula was designed for several purposes.
- guards against insects and the scent naturally dehydrates the insects and their eggs so that there are no offspring to bother you later.
-non-toxic for you, your family, pets, and your home.
-Veterinarian and Holistic Vet Recommended
-scent is a spicy lavender mix and can be used as a perfume or air freshener for the home.
-essential oils used are soothing to the senses. The scent of Bugrepel was designed to also calm and de-stress you. Insects are stressful--life is stressful. This is ment to be worn for long periods of time and help you to feel happier when you wear it.
-ingredients are known to help the skin. They are soothing for dry skin, hot spots, and eczema.
-for animals, they help with cuts scratches hot spots, restore shine to coat. While the scent will make them feel happier, the oils used will help stop scratching, licking, and biting and deodorize the animals so they smell nice and if you use it in a barn, not only will the bugs stay away but the barn will smell alot better.
Please visit our catalog
---
100% Made in America Please visit our catalog• Questions click here •
p: 855-LOV-BUGS (855-568-2847)
•
Your Privacy

We understand that all of the customers expect a very high level of privacy.

We will do everything to assure your privacy and complete anonymity.

We will not use your name, address, or email address for purposes other than your transaction. We do NOT sell information

You will not be added to a mailing list or receive spam from any other companies.

Your name, address, and email will not be given or sold to any other companies.

All items are shipped discreetly without any indication as to the package contents.

We will not leave feedback for you unless you request it. If you have any comments or requests, simply email after your transaction has been completed


100% Made in America Please visit our catalog
•
Questions click here
•
p: 855-LOV-BUGS (855-568-2847)
•
Privacy Policy/Terms of Service
Merchant policy
Copyright 2000-2012 Be Happy Bugrepel. All rights reserved. Text and graphics are protected by US & International copyright laws and may not be copied, reprinted, published, translated, hosted or otherwise distributed by any means without explicit permission.
The following insects are repelled and or exterminated naturally and safely by the various
BugRepel
products :
Note :
We
DO NOT
use : Oil of Aloe, Chrysanthemum , Citronella, Penny Royal , Tea Tree (also known as Melaleuca) or Wormwood because of the extreme toxicity levels and the potential of causing fatality in animals and or humans.
HYMENOPTERA
Ants, Bees, and Wasps
1.Anaxyelidae
2.Andrenidae
3.Anthophoridae
4.Apidae
5.Argidae
6.Aulacidae
7.Bethylidae
8.Braconidae
9.Bradynobaenidae
10.Cephidae
11.Ceraphronidae
12.Chalcididae
13.Chrysididae
14.Colletidae
15.Cynipidae
17.Dryinidae
18.Embolemidae
19.Encyrtidae
20.Eulophidae
21.Eupelmidae
22.Eurytomidae
23.Formicidae
24.Gasteruptiidae
25.Halictidae
26.Ichneumonidae
27.Leucospidae
28.Megachilidae
29.Mutillidae
30.Mymaridae
31.Ormyridae
32.Platygastridae
33.Pompilidae
34.Proctotrupidae
35.Pteromalidae
36.Sapygidae
37.Scelionidae
38.Sphecidae
39.Tenthredinidae
40.Thysanidae
41.Tiphiidae
42.Torymidae
43.Vespidae
BLATTARIA
Cockroaches
44.Blattellidae
DERMAPTERA
Earwigs
45.Forficulidae
ISOPTERA
Termites
46.Hodotermitidae
47.Rhinotermitidae
PLECOPTERA
Stoneflies
48.Chloroperlidae
49.Nemouridae
50.Perlodidae
PSOCOPTERA
Barklice
51.Psocidae
THYSANOPTERA
Thrips
52.Aeolothripidae
53.Thripidae
HOMOPTERA
Aphids, Cicadas, Scale Insects, and related families
54.Achilidae
55.Aleyrodidae
56.Aphididae
57.Cercopidae
58.Cicadellidae
59.Cicadidae
60.Delphacidae
61.Membracidae
62.Psyllidae
NEUROPTERA
Lacewings, Alder Flies, Dobsonflies, Antlions,
and related families
63.Berothidae
64.Chrysopidae
65.Corydalidae
66.Hemerobiidae
67.Myrmeleontidae
68.Rhaphidiidae
69.Sialidae
MECOPTERA
Scorpionflies
70.Bittacidae
COLEOPTERA
Beetles (Inc. Ladybugs,
also known as Ladybeetles)
71.Alleculidae
72.Anobiidae
73.Anthicidae
74.Bruchidae
75.Buprestidae
76.Byturidae
77.Cantharidae
78.Carabidae
79.Cerambycidae
80.Chrysomelidae
81.Cicindelidae
82.Cleridae
83.Coccinellidae
84.Cucujidae
85.Cupedidae
86.Curculionidae
87.Dascillidae
88.Dermestidae
89.Dytiscidae
90.Elateridae
91.Erotylidae
92.Gyrinidae
93.Heteroceridae
94.Histeridae
95.Hydrophilidae
96.Lampyridae
97.Lathridiidae
98.Leiodidae
99.Meloidae
100.Melyridae
101.Mordellidae
102.Oedemeridae
103.Pedilidae
104.Phalacridae
105.Rhizophagidae
106.Scarabaeidae
107.Scirtidae
108.Scolytidae
109.Silphidae
110.Staphylinidae
111.Tenebrionidae
112.Trogositidae
TRICHOPTERA
Caddis flies
113.Brachycentridae
114.Hydropsychidae
DIPTERA
True Flies
115.Acroceridae
116.Agromyzidae
117.Anthomyiidae
118.Asilidae
119.Bibionidae
120.Bombyliidae
121.Calliphoridae
122.Cecidomyiidae
123.Ceratopogonidae
124.Chamaemyiidae
125.Chironomidae
126.Chloropidae
127.Conopidae
128.Culicidae
129.Dolichopodidae
130.Drosophilidae
131.Empididae
132.Ephydridae
133.Hippoboscidae
134.Lauxaniidae
135.Lonchopteridae
136.Muscidae
137.Mycetophilidae
138.Otitidae
139.Phoridae
140.Piophilidae
141.Pipunculidae
142.Psychodidae
143.Rhagionidae
144.Sarcophagidae
145.Scathophagidae
146.Scatopsidae
147.Sciaridae
148.Sepsidae
149.Simuliidae
150.Sphaeroceridae
151.Stratiomyidae
152.Syrphidae
153.Tabanidae
154.Tachinidae
155.Tephritidae
156.Tipulidae
157.Trixoscelididae