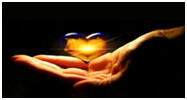 Come to Love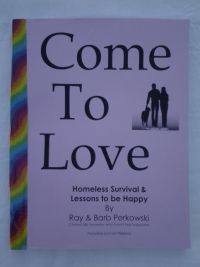 Love & Happiness can be Yours from Secret Homeless Survival Guide

Transform your life with love.

"We think sometimes that poverty is only being hungry, naked and homeless. The poverty of being unwanted, unloved and uncared for is the greatest poverty. We must start in our own homes. To remedy this kind of poverty."-Mother Teresa

Anyone can change and find more happiness and love in life.

"Frozen like a Deer in Headlights are most homeless people- burdened by the past, confused on which way to go and clueless on survival skills." says Barb Perkowski, homeless advocate "Problems are magnified when you are homeless so tip were simplified to quickly get anyone into a better space attracting love."

Come to Love is filled with inspiring guidance, encouraging stories, easy steps for a clear plan of action to achieve love, happiness, attract abundance, and have a comfortable home.

This is a call to action to help bring more love, abundance, happiness, and a life of purpose to you. Plus tricks to help homeless people live better and help find homes.

"Come to Love" is a workbook with easy tips to change and pages of guidance to help you find the love, abundance, happiness, and a secure comfy place to live. Each Book is 162 pages of simple easy to follow tips to help you immediately change your world. Each book is sent priority mail.

Come to love and happiness.

Homeless people used these simple tips to attract love, happiness, abundance, and homes.

Why not you?

" I Loved it. I felt so much better after reading it.This is a great way to reboot your mind, body and soul — so I encourage you to take part. The guidebook works!"—Micj

"I am happier. My family is more at peace. It really did help us."—S

"I Love it!"--C

Any questions: Please contact us at cometolove@outlook.com
Ray Perkowski faced death each day for most of his life as a true unsung hero. Now he spends each day helping the homeless stay alive--warm, feed, with clothing, healthcare, a safe place to sleep, and help in trying to obtain work or housing.
When Barb and Ray Perkowski met, both were homeless. They devoted their lives to helping others. Over 150 people were helped to attract a better life & find homes in the past year. They will be donating part of profits to help the homeless and part to Operation Chillout a Homeless Veteran Emergency Crisis non-profit. Thank you for your time and support.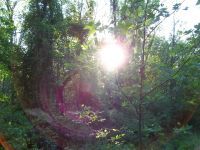 Here are some tips from the book:
One of the most powerful things we can do is love
Affirm Daily;
I accept myself
I forgive myself
I love myself
When you go to see someone or do something say to yourself I Love You.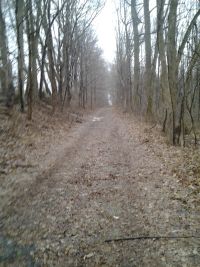 Change is so important for love and happiness. The world is constantly changing and you need to be open to change. Fear and resistance bring stagnation and loss of income, loss of love, and sadness.
It can be a big challenge to let go of fear and resistance but once you do, everything will start to flow.
I love you I love you I love you.
Keep Repeating it. If you don't love yourself, how do you expect anyone else to.
Before you can have lasting wealth and abundance, you must remove the fears, problems, and resistances.
Here are some techniques to help attract love and wealth.
Keep giving love. Keep saying I love you. When there is fear and problems. Keep repeating. Then let go of the problem and focus what is around you that can make you feel happier.
Follow the Simple steps to fill your life with love.
You can be happy.
People are homeless from a house fire, divorce, abusive relationship, or Veterans who have been in war and come back to a family that is gone or suffer from PTSD. 25% of the homeless here are Veterans and 60% are disabled. There are nurses living in their car and there are manager of companies living in their cars. They go to work all day and live in their car at night. Homeless is not synonymous with jobless--44% of homeless have jobs. Some that do not have jobs just need little things like wipes and clean clothes to get and maintain a job. One man could not keep himself clean enough and was fired for it. Little things are so important. There are a lot of people that are homeless and invisible.
Some campgrounds will rent campers in the campground for less than an apartment and you have outside space and do not have to put as much down when you move in.
Ask at the campground office if they need help. To work for a campground can be wonderful. You do not have to travel far to work, and some give a discount on the rent and utilities.
Pallets make great steps. You can also use pallets for making shelves, sheds, and fencing. And usually pallets are FREE!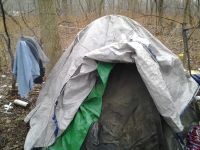 Insulated board is great way to stop airflow under the camper. Cut up a board in strips and then duct tape them around the perimeter between the bottom of the trailer and the ground.
Insulation is great on the ceiling to trap the cool in summer.
Paint the roof white. This will bring the temperature down 10 degrees in summer.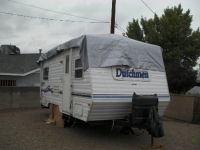 Tarps are wonderful! Use around tents, around objects to store them, around tents, as insulation, to keep rain out, rope between trees as a sunscreen or roof, make a home from them, tarp your camper to keep it warm, keep belongings protected & you warmer in winter and cooler in summer.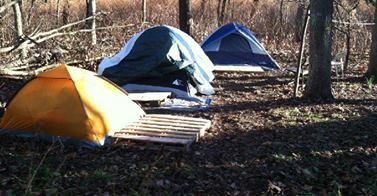 The book has steps to remove anger and fear. once they are removed you can attract what you need.
"She needed to let Dick go send love. Sandy realized that she is now free to be happy with someone that would be happy with her.
Love and appreciate what you have and you will attract more.
Look at the positive and feel happy for the moment. Appreciate all that is around you. Love. Be grateful. You will move towards things magically going in good directions bringing more and more help, abundance, and health. "--Come to Love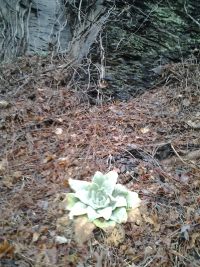 Both Ray and Barbara once questioned how they ended up homeless.
Now they feel "it was God who directed us there to find each other
and help others. That is why we have the name God's people helping people."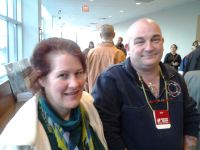 Your Privacy

We understand that all of the customers expect a very high level of privacy. We will do everything to assure your privacy and complete anonymity.

Y - I will not use your name, address, or email address for purposes other than your transaction. I do NOT sell information

Y - You will not be added to a mailing list or receive spam from any other companies.

Y - Your name, address, and email will not be given or sold to any other companies.

Y -All items are shipped discreetly without any indication as to the package contents.

Y -I will not leave feedback for you unless you request it. If you have any comments or requests, simply email me after your transaction has been completed . cometolove2@gmail.com

Created with Love for Enjoyment

Tagged love, happiness for you, homeless help, Jesus, Love of God, Love of Life, anxiety, counseling, divorce, healing, life direction, Marriage, personal growth, relationships, solo travel, spirituality, transformation, trauma, wisdom, Zen, Buddha, addiction affairs aikido alone anxiety baby boomer circus conflict consciousness counseling deeply loved by someone someone who loves you deeply courage compassion removing fear discover love divorce entrepreneur healing holistic imago homeless homelessness help if homeless in the USA life direction life couching Marriage New York nutrition ny personal development personal growth present moment relationships satori Seattle Stroudsburg self-help separation solo travel camper trailer companion solo travel journey spiritual growth spirituality tattooes therapy transformation trauma wisdom Writing Zen Health Happiness True Love Home


Copyright 2014 People Helping People All rights reserved. Text and graphics are protected by US & International copyright laws and may not be copied, reprinted, published, translated, hosted or otherwise distributed by any means without explicit permission.